Tensile Structures
Are you adding a tensile fabric structure to your latest project? Look no further!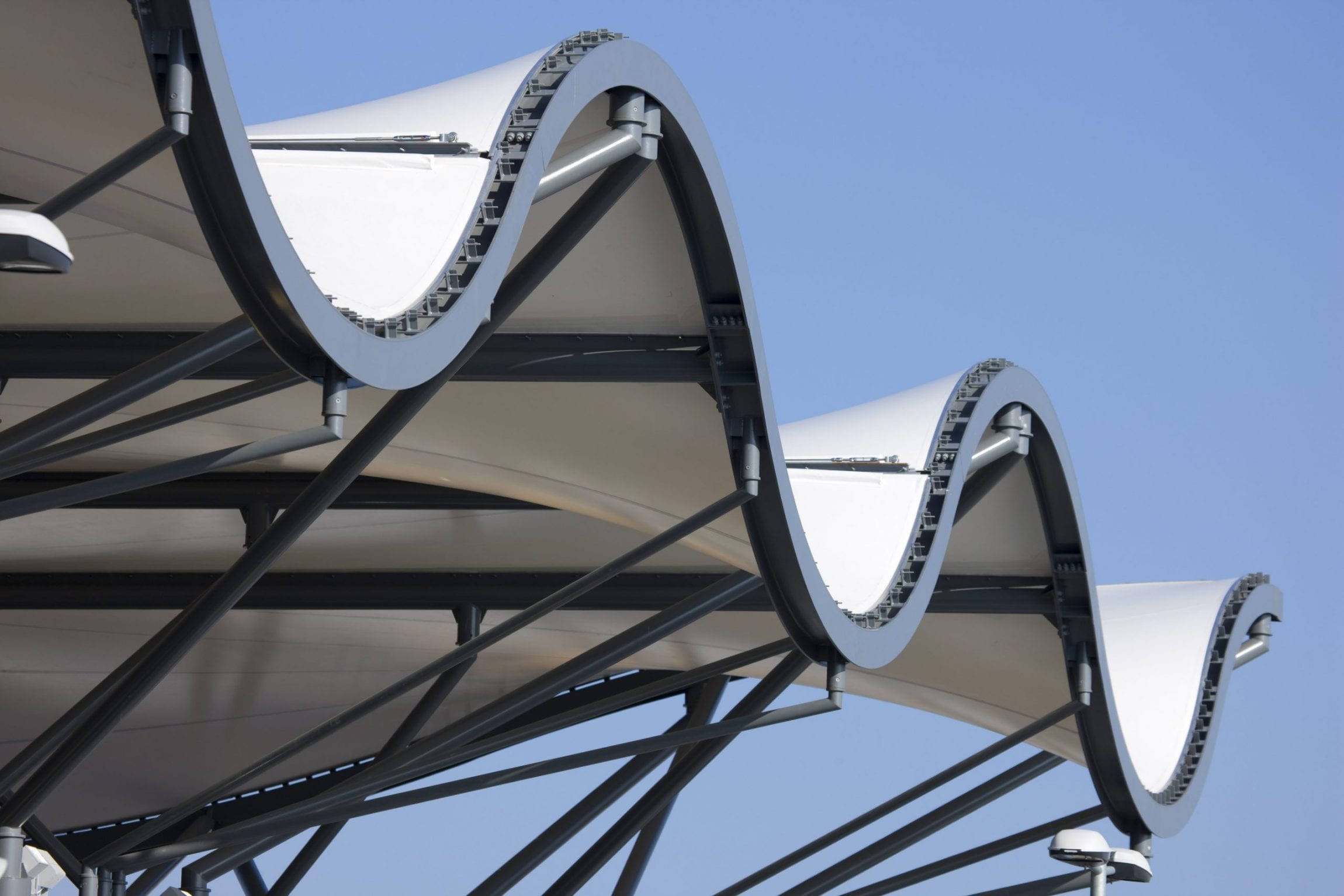 Tensile Structures
At Metafab Solutions, we provide a one-stop shop and complete steel service for your tensile fabric structure project from inception through to delivery on site and, if requested, installation too!
Tensile fabric structures are the ultimate design in flexibility for any complex space requirements.  They are often created to allow people to use spaces and gain shade and shelter from the weather elements.  Schools use them extensively for ensuring that children can travel from one building to another in the dry or to allow them to play outside in all weathers and have some protection from the rain, wind, or sun.
With extensive experience of working with tensile structure providers, we have manufactured and painted steel for these types of projects both in the UK and overseas.
Our many projects include school shelters and walkways, hospital entrances, exits and ambulance bay areas, as well as shopping centres, airport arrivals and departure shelters, port shelters for those incredible travel opportunities too.
Bespoke steelwork projects
How can we help with your tensile fabric structure?
Working closely with you on your project, we are able to review your detailed drawings, visit the site location with you (in the UK) if required, to discuss the project and the best way for your project to work including the use and positioning of plant equipment.  Making your project a success is our aim!
Need the steelwork to be delivered to your site?  We can help with this and ensure that all steelwork is delivered to your specified location and to your site contact on time.  Our drivers are all well versed on bringing any identification required to ensure that we fulfil any security requirements for arrival to the site.
Please contact us on 01594 839220 or email sales@metafabs.com about your bespoke architectural steelwork projects!
Please contact us on 01594 839220 or email sales@metafabs.com about your bespoke architectural steelwork projects!
What does a steel fabricator do for a tensile fabric structure?
A steel fabricator specialises in reading and understanding the drawings you, or your provider, have produced as well as the engineering required to fulfil the project brief. Steel is then procured, rolled and fabricated, to the drawings provided. We will also trial erect part or whole of the structure to ensure fitment on site. We also provide the surface treatment of the completed project to your specification, this will include galvanising, industrial wet painting or industrial powder coating to suit your budget and requirement
What is a tensile structure?
A tensile structure is characterised by a fabric membrane tensioned with wire or cables supported with steelwork to create a form, this can be a shade, awning, cover, walkway or even an outside classroom
Why is the steel for tensile steel structures rolled?
Rolling of the steel is predominately used to provide the arches of the form and allows the backbone of the to be structure to be created.
Can you produce the drawings?
Metafab Solutions can support you with your drawings for a project and, if required, work with a draughtsperson to create more detailed drawings to accurately reflect your project requirements.  Our coded welder fabricators understand and can read all forms of drawings accurately.
How can Metafab Solutions assist more?
We not only fabricate the steelwork and provide a finish, we can also manage your delivery requirements, allow for correct identification of the components for your site team, or even we can install the steelwork on your behalf with our accredited installation team